So I recently just did an International Rally in Negeri Sembilan, Malaysia late 2013.
It was a 10 year hiatus from being and feeling on top when I was 18 years old and winning my first national title in 2003. I remember tweeting a "#flashbackfriday" (follow @ivanisada), about it later in 2013.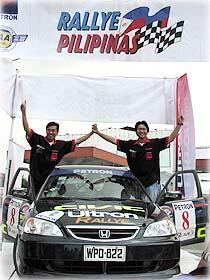 This wasn't my first taste of international rallying, as I was looking for a possible rally career back in California, United States with the Rim of the World Rally in 2005.
Life, school, and another sport happened such as volleyball. While rallying, had its difficulty here in the Philippines with having too many on and off seasons with rallycross and sprint rallies.
That has not kept the dream away. Preparation through competing in local motorsports events could still help me if and when I start again to rally in either Malaysia, New Zealand or both.
In December 2013, part of that dream had become reality again with an actual drive in the International Rally of Negeri Sembilan. It has been 18 years since there was a Filipino who had run in an International Malaysian Rally. That made me proud to be the first in a long time to be rallying in Malaysia. That's me, car number 17!
What made me even more proud was the fact that I had brought my father, Vip Isada, along to help manage my team. He was recognized by many Malaysians as a very good rally driver who had competed in Malaysia. We were actually surprised how much respect they had given him. My father drove for Petronas Eon Racing Team (PERT) in 1995 in the APRC Round of Rally Malaysia. Dad was actually the last one to run here in Malaysia and he was car number 17 too!
The coincidence of it was that when he also ran in 1987 in Malaysia with the Conge, a local fabricated car from the Philippines that the Malaysians recall as being "that funny looking car", he was also car number 17!
With all the International Rally of Negeri Sembilan done, we are hoping for better years of rallying to come. Hopefully this kick-starts more possible dreams for international and local rallying!
2014, 2015, 2016, etc… Let's see.
Some Personal Trivia: I've been asked several times for the reason in choosing my volleyball jersey number #17 back in college… this was because of Dad's car plate number during his time rallying in Malaysia!